Dive into the world of Face Changing Sichuan Opera and explore the competence of its performers in this captivating article. Unveil the secrets behind the mesmerizing art of Face Changing and witness the skill required to master this ancient craft.
Face Changing Sichuan Opera: Unveiling the Competence
Introduction
Are you ready to delve into the mesmerizing world of Face Changing Sichuan Opera? This ancient Chinese art form has gained immense popularity around the world for its captivating performances and extraordinary techniques. In this article, we will explore the unique competence of Face Changing Sichuan Opera, unraveling the secrets behind its breathtaking face-changing performances and the immense skill required to master this art.
The Enigmatic Art of Face Changing
What is Face Changing and How Does it Work?
Face Changing, also known as "Bian Lian" in Chinese, is a remarkable technique in Sichuan Opera where performers seamlessly change the color and design of their masks or face paint in a split second, right in front of the audience's eyes. This quick change is executed with the swift movements of the performer's hands, fans, or even a quick puff of air.
The Intricate Skill Behind Face Changing
Behind the seemingly magical transformation lies years of dedicated practice and a deep understanding of the craft. Performers undergo rigorous training to master the art of Face Changing, honing their skills in coordination, speed, and precision. From the flick of a wrist to the angle of a fan, every movement is carefully choreographed to create a flawless and awe-inspiring performance.
The Competence of Face Changing Performers
Meticulous Hand Movements
Face Changing performers possess a remarkable level of dexterity and control over their hands. Their hands glide gracefully across their faces, smoothly removing or adding layers of colorful masks or face paint. The precision required to execute these movements flawlessly is nothing short of astounding.
Swift Fan Techniques
Fans play a crucial role in the art of Face Changing. Performers skillfully manipulate the fans, using them to reveal or conceal their changing faces in a fraction of a second. The speed and precision at which they handle the fans are a testament to their expertise and years of practice.
Astounding Coordination
Face Changing performances often involve not just the performer but also other actors and props. The ability to synchronize movements, timing, and facial expressions with the entire ensemble showcases the exceptional competence of these performers. Their meticulous coordination adds depth and complexity to the overall performance, leaving the audience in awe.
The Magic of Face Changing Sichuan Opera
Transforming Emotions and Characters
Face Changing is not only about changing masks but also about transforming emotions and characters. Performers use different colors, patterns, and designs to represent a wide range of emotions and personalities. From happiness to sadness, from hero to villain, every change in the face reflects a change in the character's inner world.
Captivating the Audience
The art of Face Changing is designed to captivate and engage the audience from start to finish. The rapid and seamless transformations create an air of suspense and intrigue, leaving spectators spellbound. The combination of skill, charisma, and storytelling transports the audience into a realm of wonder and excitement.
Building Trust through Face Changing Sichuan Opera
Preserving the Traditional Artform
Face Changing Sichuan Opera is a treasured and ancient art form that has been passed down through generations. Performers dedicate their lives to preserving and promoting this cultural heritage, ensuring that its essence and beauty remain intact for future generations to enjoy.
Showcasing Mastery and Expertise
The competence demonstrated in Face Changing performances reflects years of arduous training and unwavering dedication. Performers exhibit a level of mastery that can only be achieved through countless hours of practice and a deep passion for their craft. Their commitment to excellence is a testament to their expertise and the longstanding tradition they represent.
Face Changing Sichuan Opera is a captivating art form that showcases the incredible competence of its performers. From the swift and seamless transformations to the meticulous hand movements and coordination, every aspect of this ancient craft requires immense skill and expertise. These masterful performers preserve and promote the tradition of Face Changing, captivating audiences worldwide and leaving a lasting impact on the world of performing arts. So, immerse yourself in the magical world of Face Changing Sichuan Opera and witness the competence that brings this ancient art form to life.
Chengdu, China, Asia
Investment value 19.00 USD
Workshop
Investment value 29.00 USD
To experience the most classic Chinese Kungfu in the bamboo forest under the guidance of the most professional Kungfu Master. You will have a good grasp of the movements of Kungfu stars in movies within 2 hours and then you'll end up with a surprise. Departure Point Wuhou District, Chengdu, China, 610000 Go to the east gate of Sichuan University and walk along the river for 4 hundreds meters. Return Details Returns to original departure point
Religion Classroom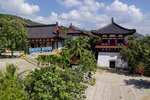 Nanshan Buddhism Culture Park
Investment value 221.34 USD
This half-day private tour of Nanshan Buddhism Culture Park will give you access to stunning shrines, statues, and temples, and also help you learn about China's Buddhist culture. You won't have to worry about organizing transport as hotel pickup is included at a time convenient for you. You'll travel with ease in a private vehicle to Nanshan Buddhism Culture Park, and beat the visitor lines with entrance fees included too. A great opportunity to learn more about Buddhism and see beautiful temples Travel comfortably in an air-conditioned vehicle Entrance ticket to Nanshan Buddhism Culture Park provided Convenient hotel pickup and drop-off included
Departure Point Traveler pickup is offered Itinerary Stop At: Nanshan Buddhism Cultural Park In the morning at 09:00 or 12:00, our guide and the driver will meet you in your hotel lobby (Hotel pickup time can be flexible upon your requirement. And pickup before 13:00 is recommended). Then transfer you directly to Nanshan Buddhism Park. Nanshan Buddhism Culture Park & Nanhai Guanyin Buddha is a window on China's traditional Buddhism culture; the Felicity and Longevity Culture Park shines its light on an atmosphere of peace and harmony; and the Nanhai Cultural Customs Park highlights China's diverse social customs. Key features of the zone include the three-sided statue of Buddha, Buddhist temples, superior landscaping and sea views. The new highlight is the Nanhai Guanyin Buddha on the sea (108 meters in height).The tour will end around 3pm. After the tour end, our driver and guide will escort you back to your hotel. Duration: 2 hours 30 minutes Admission Ticket Included Stop At: Sanya Special note: 1. If you want to start your tour at different time, please leave a special requirement at the time of booking. 2. Picking up from cruise port or dropping off is no problem with additional fees (depending on how many people). If you need this service, please leave a special requirement when booking.
Environmental
Shanghai to Suzhou and Tongli Water Town Self
Investment value 170.67 USD
Overview
Flexible 11 hours self-guide tour with private English speaking driver service. No pushing and rushing day trip. Hotel pick up and drop off include whatever your Shanghai hotel location, all tolls , gas, parking fee an no limited bottled water included.
Departure Point Traveler pickup is offered English speaking driver pick you up from hotel ( Not include airport ,train station and cruise port) If you need pick up from airport , train station or cruise port, please inform us in advance , we can do it but with extra cost ,and you can pay the extra fee to driver directly . Itinerary Stop At: Shanghai Your private English speaking driver will meet you in the lobby of hotel. ( Driver with English speaking skills , not a guide, but it is quite enough for your self-guide trip, because driver has translator APP) . Then directly heading to Suzhou , it will take about 2 hours riding if without heavy traffic . Duration: 15 minutes Admission Ticket Free Stop At: Suzhou Suzhou is located in southern Jiangsu Province in the center of the Yangtze Delta, Shanghai lies to the east. This is a much smaller city compare to Shanghai with a lots to see in the city. Below listed attractions are famous in Suzhou , but you do not have time to visit all in the day trip, your driver will take you to where you want to go and give you the best advice based on your requests. Suggested 3 hours for this city with quick lunch . Duration: 3 hours Admission Ticket Free Stop At: Tiger Hill Tiger Hill, known also as Surging Sea Hill, is a large hillock covering about 3.5 acres and only 118 feet in height. Climbing it, you will find a number of historical sites some of which can be traced back over 2,500 years to the founding of Suzhou. Although the hill is relatively small it has rich history. These are just some of the highlights of what to be found there. Suggested time : 1 hour Duration: 1 hour Admission Ticket Not Included Stop At: The Classical Gardens of Suzhou Classical gardens of Suzhou are the cultural and the artistic essence of folk architecture in China. This can only be appreciated by visiting them, and thus to understand why Suzhou is called 'Paradise on Earth'. Suggested time :1 hour Duration: 1 hour Admission Ticket Not Included Stop At: Pingjiang Road Pingjiang Road is the largest and best-preserved historical block in Suzhou. It's a 1.6km-long narrow road along the old canal. Suggested time : 45 minutes Duration: 45 minutes Admission Ticket Not Included Stop At: Suzhou Museum It is adjacent to the Humble Administrator's Garden. Please bring your passport if you want to go visit. Suggested time :45 minutes Duration: 45 minutes Admission Ticket Not Included Stop At: Humble Administrator's Garden It is listed as a World Cultural Heritage site and has also been designated as one of the Cultural Relics of National Importance under the Protection of the State as well as a Special Tourist Attraction of China . Suggested time :1 hour . Please bring your passport if you want to go visit. Duration: 1 hour Admission Ticket Not Included Stop At: Jinji Lake It's a symbol of Suzhou as "New Paradise on Earth", where people can enjoy their leisure time and the beautiful broad view of the lake. Suggested time :30 minutes Duration: 30 minutes Admission Ticket Not Included Stop At: Lion Forest Garden It is one of the four most famous and representative gardens of ancient classical style in Suzhou City. Suggested time: 45 minutes Duration: 45 minutes Admission Ticket Not Included Stop At: The Lingering Garden Possessing typical Qing style, it is well-known for the exquisite beauty of its magnificent halls, and the various sizes, shapes, and colors of the buildings. In 1997, it was recorded on the list of the world heritage by UESCO. Suggested time :1 hour Duration: 1 hour Admission Ticket Not Included Stop At: Shantang Street Shantang Street, an ancient riverside pedestrian road in northwest Suzhou, is very popular with tourists. And you day lunch can be here, you can find good snacks or restaurant . Suggested time:1.5hours included lunch time. Duration: 1 hour 30 minutes Admission Ticket Not Included Stop At: Panmen Gate It is famous for its numerous historic relics and abundant human landscapes and has been listed as a National AAAA Tourist Area. Suggested time :30 minutes Duration: 30 minutes Admission Ticket Not Included Stop At: Suzhou Ancient Grand Canal In different cities excellent ships and boats are available to take visitors to admire the Grand Canal scenery to their heart's content. Suggested time :1 hour Duration: 1 hour Admission Ticket Not Included Stop At: Hanshan Temple Being one of the most famous temples in Chinese history, Hanshan Temple often boasts about its bell rings. Suggested time :45 minutes Duration: 45 minutes Admission Ticket Not Included Stop At: Canglang Pavilion (Blue Wave Pavilion) Canglang Pavilion (Blue Wave Pavilion) is located in the southern part of Suzhou, and is one of the four most famous gardens of the city. Suggested time :45 minutes Duration: 45 minutes Admission Ticket Not Included Stop At: Tuisi Garden Located at Tongli water town. Suggested time 40 minutes Duration: 40 minutes Admission Ticket Not Included Stop At: Tongli Town In the afternoon , takes about 1 hour riding to Tongli town which is an age-old but very well preserved water town with a history of more than 1,000 years.True to its reputation, Tongli water town is a really wonderful travel destination where you can spend a marvelous holiday or experience traditional Chinese culture. Duration: 2 hours Admission Ticket Not Included Stop At: Shanghai After exploring the Tongli water town, your driver will take you back to hotel in Shanghai , it will take about 2 hours riding. Duration: 2 hours Admission Ticket Free
Investment value 138.47 USD
Overview
Visit Chengdu's Research Base of Giant Panda Breeding to see China's iconic giant pandas at work and play. With convenient transportation from your hotel, you maximize your time touring the facility with a guide. Witness the pandas eating and playing in a habitat that closely resembles nature, and experience the respect the center has for these protected animals. Explore the Chengdu Panda Research Base with a guide Get close to some of the 80 giant pandas who make their home here Learn about the important work scientists are doing to protect this endangered species Save time with round-trip transportation from your hotel in Chengdu
Departure Point Traveler pickup is offered We pick up of Your Chengdu hotel lobby Itinerary Stop At: Chengdu In the morning, our tour guide will sign your name and meet your hotel lobby at 08:00am or 13:00pm( Normally, we recommended the panda tour should go at the morning, due to have more chance to see the pandas) and transfer to Chengdu Giant Panda Breeding Research Base, need 30 minutes driving, 15km. Duration: 10 minutes Admission Ticket Free Stop At: Giant Panda Breeding Research Base (Xiongmao Jidi) Chengdu's Giant Panda Breeding Research Base is home to over 80 of China's iconic pandas. Most are of the familiar black and white variety, but the Base is also home to a number of the smaller, lesser-known red pandas. You'll view the animals eating and at play in a carefully maintained habitat that is as close to their natural environment as possible. You'll also learn how scientists and ecologists are working to protect the few remaining wild pandas and expand the captive population. On that last note, over 100 bears have been born at the Base since 1987. The Base became even more important after the Sichuan earthquake of 2008, with eight bears sent here from the badly damaged Wolong reserve. Your visit provides both moral and financial support for the ongoing conservation effort. Itinerary: Tour Duration: approximately 4. 5 hours 08:00h: Depart from hotel 08:30h-11:30h: Touring in Giant Panda Breeding Research Base 11:30-12:00h: Return to hotel Duration: 3 hours Admission Ticket Included Stop At: Chengdu Afterwards, take the private car to your Chengdu hotel during 11:30am-12:00pm. End of our services. Duration: 10 minutes Admission Ticket Free ;